Congratulations Hockey Boys 1XI – winners of the Mayhill Cup!
Thank you to the Pukekohe Indian Association for allowing our team to use the hall between games and after, and the many parents and staff who supported throughout the week.
It was wonderful to see the sportsmanship and hockey skills on display after two years of no tournaments. The boys fought incredibly hard all week and their expectations and resilience were very much kept in check by the calm and cool heads of assistant coach Milan Patel (ex pupil of PHS) and head coach Reinier Veenhuijsen! Thank you both for all you have done for the boys this season.
Special congratulations to Nathan Soma who was also awarded tournament MVP.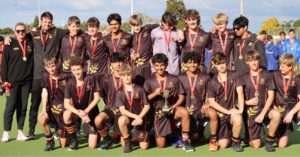 Pukekohe High School / Papatoetoe High School Annual Sports Exchange Tuesday 6 September 2022
Congratulations to all of our teams who represented our school in the annual Pukekohe High School/Papatoetoe High School Sports Exchange. We were successful in retaining the Marathon Sports Shield!
Special mention to Ryan Spick and Brody Perry for acknowledging the Coaches, Managers, officials and Sport Coordinators from both schools in their closing speech, great sportsmanship.
From 13 team events, Pukekohe won 11 and Papatoetoe won 2. The two Papatoetoe teams that did win were given a hearty applause by their school as the results were read out.
The following teams were successful:
Rugby U16 Open
Netball Premier, Year 10, and Year 9,
Basketball Open Boys, Open Girls and Junior Boys
Football Girls 1st XI and Boys 1st XI
Hockey Girls 1st XI and Boys 1st XI
Well done to all participants.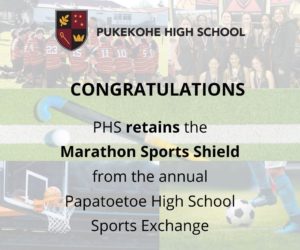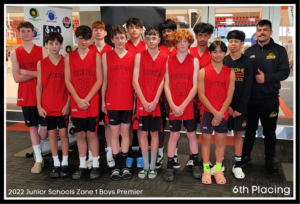 Counties Manukau U18 Boys & Girls Representative Team Selection – Pukekohe High School
Pukekohe High School Rugby congratulate 6 Pukekohe High School Student Athletes selected as part of the Counties Manukau U18 Boys & Girls Squads for the upcoming 2022 representative rugby season.
Counties Manukau U18 Boys Selections 2022 – Pukekohe High School
Liam Dowdall | Year 13 | 1st XV
Jayden Flanagan | Year 13 | 1st XV
Robin Proctor | Year 12 | 1st XV
Counties Manukau U18 Girls Selections 2022 – Pukekohe High School
Mia Apelu | Year 13 | Girls 10s
Ceazyn-Rose Bhana | Year 13 | Girls 10s
Lucy Setefano | Year 13 | Girls 10s
Moana Vea (Tuakau College). Played for our Pukekohe HS Girls 10s in 2022.
Special mention also to two former Pukekohe High School student athletes Jaecob Harris (Patumahoe RFC) & Matthew Haig (Pukekohe RFC) who also have been selected in the CM U18 Boys squad. Mention to our Pukekohe High School Girls 10s Coach Nikki Bhana who is team manager of the U18 boys' squad alongside, Shey Eva (PHS Rugby Coordinator) as Asst + Ops Manager for the U18s Boys and David Faitala (PHS Girls 10s Resource Coach) as Asst Coach of the U18 Boys. Mention to Danie Fourie (Year 12) and Dominic Gerin-Tugaga (Year 13) who were also part of the CM U18 Boys Wider Squad.
Both U18 squads kick off their 2022 campaign this weekend on Saturday 10th Sept vs Bay Of Plenty U18s, 1pm KO at Waiuku Rugby Club.
Congratulations to all involved! We wish these student athletes and management all the very best for their campaign. A great achievement for all.
#PHSRugby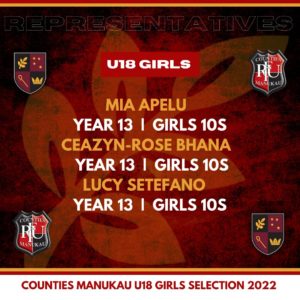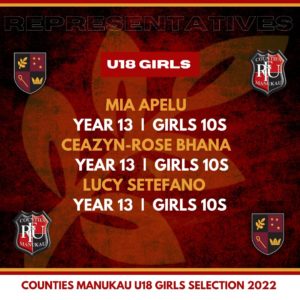 It's time to sign up for T4 summer sports!
For Years 9 & 10, T4 sports are fun, social competitions that usually go for 4-6 weeks. The main sports are volleyball, cricket, touch and softball. You can sign up online (from the website) or at the sports office (in between the 2 gyms).
ALL year level sports available to get involved in for T4 include rowing, distance running, athletics, swimming and surf lifesaving.
There are various short sports tournaments that are held during the term – which gives that extra challenge and incentive.
Teams will be subject to numbers. To support our students and enable them the full experience of all sports on offer, we do need parents and/or older students to coach and manage teams and provide transport. If you are able to volunteer, we would love to hear from you
[email protected]