During the school holidays, Year 13 Business students Liam Gregor and Kaelan Paranihi were part of an elite group of 10 students, chosen from 1500 students, to attend the YES (Young Enterprise Scheme Alumni Awards) held at the Cordis Hotel in Auckland city. Liam and Kaelan were chosen because of their successful efforts in the YES program already in 2022, and have stood out from the crowd!  Every year YES select a handful of students to enjoy the event and meet other successful people.
This is an annual event recognizing YES alumni who took part in the YES program during their years 12-13 when they were at school. These successful entrepreneurs and business people received awards or nominations with recognition for their outstanding achievements in business, related to their entrepreneurship and/or leadership efforts in the breakthrough companies. You would be surprised which Alumni who were at the awards evening.
Liam said "we were able to network with some of the most promising businessmen/women such as Brooke Roberts CEO of Sharesies and many more!" Accompanying the event were tasty food/drinks with lots of opportunity for the boys to meet and gain some hands on business knowledge. "We learned a lot on this night, and we are both very inspired to continue on with business and to try to win the Young Enterprise Scheme accompanied by our fellow business members from Taiao Planters in 2022!" Kaelan added.
Pukekohe High School was thrilled to be offered this opportunity for two innovative students to attend.  A night to remember for both Liam and Kaelan!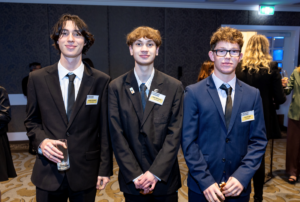 Kaelan left and Liam right talking to YES Alumni below.