Pukekohe High School was well represented at the KBB Music festival this month when five of our ensembles travelled to the Holy Trinity Cathedral in Auckland and gave some great performances.
The String Ensemble were the first to perform and played to a very high standard under the direction of Marija Dimitirjevic. PHS' Stage Band, Big Band, Wind Band and Senior Concert Band made our school proud when they also took to the stage.
Two of our Year 13 musicians were chosen to play in the Honours Big Band, directed by Dr. Rodger Fox. Matthew Potter was selected as Trombone player while Alex Vujanic was the featured Tenor Saxophone soloist. The students chosen to play in the honours ensembles represent schools from all across Auckland and represent the very highest levels of playing, dedication and commitment. Congratulations to Matthew and Alex on this great personal achievement.
Awards were announced at the Gala Concerts, which were held at the end of the festival. The top four ensembles from each competition category were chosen to play at the concerts. Our Stage Band was proud to be selected for a performance, which in itself is a significant achievement. They were also presented a Gold Award and nominated for the Peter Goddard Memorial Trophy. In addition, the Stage Band won trophies for "Best Performance of a Ballad" for their performance of "Just Friends" (featuring Bridget Nissen on Vocals), and "Best Performance of a Work in Another Style" for their performance of the funk chart, "Arnge Drank".
PHS' Big Band and Concert Band both won Silver, while our Wind Band was presented with a Bronze Award. The String Ensemble earned a Participation Award.
A huge congratulations goes to all of our musicians. Their achievements are a reflection of all their hard work and effort.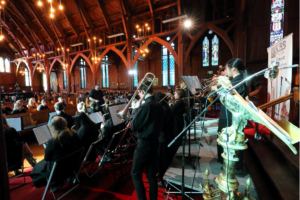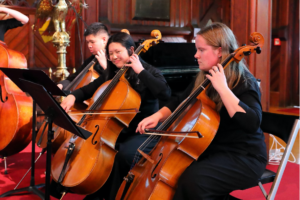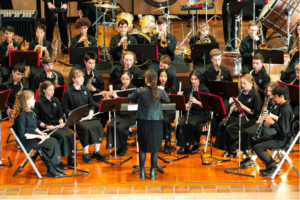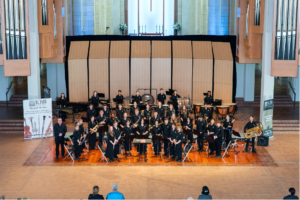 Stage Band and PHS Quintet at Auckland Jazz and Blues Competition
The AJBC is held annually in Point Chevalier, and our Jazz Combo and Stage Band competed on August 8. Our ensembles played to a high standard and were both awarded with Gold. Congratulations!